If you are looking for a web designer, what kind of cost are you looking at? How much do you need to invest to get a professional website that will present your brand to the world? What are the traditional costs of web design?
If you hire a freelancer, you may find the prices are relatively low but what kind of quality will you get? A site such as fiverr.com offers a basic website for as little as $5. But, as a business owner, you will want to plan to invest more than that to achieve the results you need.
There are a variety of web design services you can find on the internet to help you with your website design. But you should be very careful in choosing a web designer so that you get what you are paying for.
Tips in Finding a Web Design Company
Remember that cheaper is not alway better. In fact, more often than not, cheaper is must worse. The old saying that "you get what you pay for" often rings true here so you should pay close attention to what you are getting for your money.
Here are some tips on how to get the best web company for the best price.
Put Quality First
Sure, you have to consider cost. But when it comes to your website, is there anything more important than quality? The quality that you project with your website is a direct reflection on your company and brand. It needs to have a professional appearance and functionality. So remember that you need a professional website that has the functions your customers want and need when they come to your site. That should come first.
Compare costs online between companies
The best way to make the best decision when choosing a web design company is to compare the prices side-by-side. You can go to sites such as GoDaddy.com, Web.com, and Wix.com and check their price structure to start. You'll find they are quite comparable in price and most of these offer a monthly payment plan that allows you to pay either by the month or annually.
Web Design Costs Based on Size
There are different levels of website design that you may want. The costs of your web design package may depend on the category that your business falls into. In addition to the site platform you choose, there are three major categories of price structure which we have listed below:
Simple, Informational, Business Website (no E-commerce, marketing-focus
If you need a simple, informational, or business website with no E-commerce, your cost will be between $7,000-$10,000 if you go with the traditional web design companies.
In most cases websites in this first category include the following:
Social media links and feeds
Blog
Email newsletter signup
Calendars, gallery, slideshows, etc.
The prices and features will vary depending on the company you choose, but this is a ballpark figure with the standard web packages in this category.
Mid-size, Informational, Business Website (no E-commerce, marketing-focus)
Like the first category, these mid-size business websites often have no E-commerce or marketing focus but rather are focused on presenting your company and brand in an informational way and to get leads and contacts with potential customers.
Most of these midrange sites include social media links and feeds, blogs, email newsletters, and other minor features. The cost of these on the traditional market range from $11,000-$20,000.
Simple, E-commerce, Business Website
For a simple E-commerce site with business features, you are likely to see all of the above features, in addition to the ability to sell online. For these features, you could be looking at a price range of $8,000-$15,000.
We realize these prices seem outlandish. But there are professional web design companies who are charging these prices and more! So you are looking at a very high budget if you go with these traditional channels.
Executionists' website, a well-known web design advice column, illustrates the exorbitant costs of web design if you go the traditional route.
Think different.
But, like Apple says, "Think different." Just because there are web design firms offering web design at a mind-boggling rate doesn't mean that you have to settle for these ridiculous rates. Often, one mistake business owners make is to automatically assume that, since that is the going rate for professional design, that's what you have to pay!
Don't fall for it.
Instead, start looking into it yourself and take a look at what professional web companies are offering. You can opt to design your own site on GoDaddy.com and barely pay $20 per month! Another option is to try out other alternative and independent companies who have chosen not to follow the marketing trends of highly expensive web design trends and charge their rates.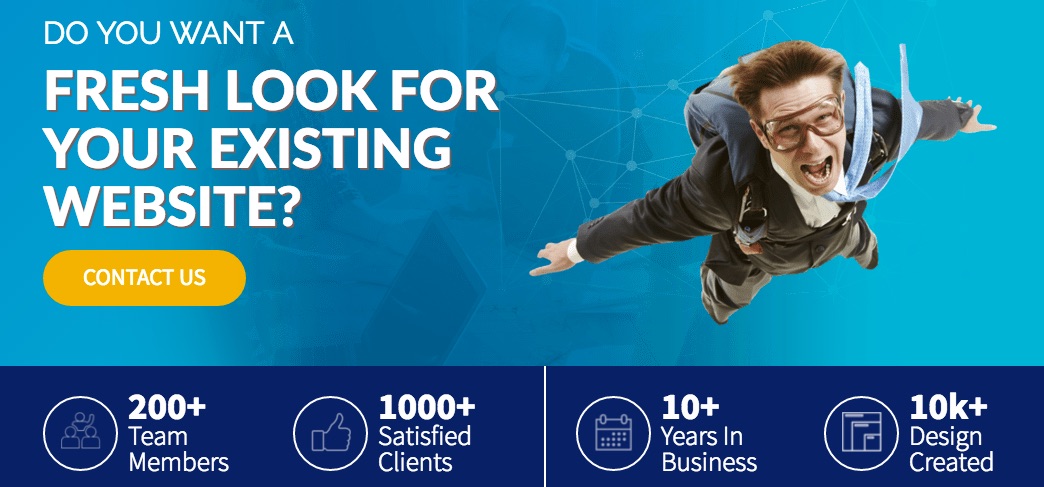 The Web Design Team Difference
At Web Design Team, we have a group of dedicated and creative web design artists who are happy to help you create your web design with any features that you need.
We have the following features available for your website design:
Graphic design
Web design and development
2D and 3D animation
Infographic design
We are also able to work your web design into any of the following formats of coding and platforms:
HTML5 and CSS– HTML 5 and CSS (cascading style sheets) are a critical part of web design these days in order to create code that works within your website in the way that you prefer. We can incorporate this easily using our engineering and coding tools.
Responsive pages– Responsiveness is important with the mobile platform so it has become increasingly important to create pages that are responsive. We can do this for you without you ever having to worry about it.
WordPress– WordPress is an important part of your website if you are on this platform. Never fear because we can build your site around this platform easily within our technology.
About Us
We feature some of the best web designers that you could ever need to create your ideal site. We include the features you need but at a much lower price than traditional mainstream designers.
You'll be happy to know that are prices are very competitive with any budget. Contact us today for a free quote and find out for yourself. We look forward to speaking with you.