How does your website look? Could it use some sprucing up? Do you need a complete overload of your business site? Many sites could use a bit of help to improve the user experience, offer more direct call-to-action statements, or just be more interesting.
But where do you start to improve it? And how do you know what you should improve upon?
Many business owners decide to create their new website themselves or just to try to improve the one they already have, which is fine if you know what needs improving. But sometimes it takes a professional eye and some web design expertise to find out where to start.
The DIY Approach
If you do decide to take this project on yourself, that's fine. Just make sure that you go about it in a creative but systematic manner and that you analyze the various aspects of your site so that you know where it could best be improved.
There are many different components to consider on your website, and you need to evaluate how the various components are working, whether there are links that are outdated, and whether your payment processing system is working for mobile visitors, to name a few. In short, there is a lot to consider that you may not think of if you are not an expert in web design.
Tips for Doing Your Website Yourself
Below are a few tips that you may want to consider when creating or improving your site yourself. Follow these ideas if you decide to create or revamp your site yourself. This is by no means an exhaustive list, but it is a good place to start for the DIY approach.
Analyze your site.– Before you start making changes to your website, it's a good idea to analyze your site to see what needs changing. Avoid changing just for the sake of change. Instead, look at the various components of your site and see what is working and what is not.
Study your metrics.– Rather than just trust your eye and your good judgment to decide what should be changed on your website, look at the specifics of your website metrics to see how it is performing. Using Google Analytics and other tools,
you can study the components that are working and find out what needs to be improved.
Experiment with colors and designs.– If you've had the same colors and design for a long time, one thing that may improve the look of your website is to change the colors or design to something different. Make sure the fonts and other aspects of your site will work with your new design and that the colors are complementary.
Keep it simple.– One rule that is good to follow is to keep it simple. Don't try to make drastic changes that may confuse your primary customers or to create a complex theme. If you are not experienced at coding or using cascading style sheets, don't try to include this until you know more about how to do it. Just add the components that you feel comfortable with and that create a pleasing experience for the user.
Check the UX.– Above all, you should make sure that your user experience is positive and that you create an easy-to-use navigation and website that users will appreciate. If you complicate it with too much fanfare, it can lower the UX.
Make sure it is mobile-friendly.Don't forget your mobile users when creating or changing your site. Google requires that your site is user-friendly to your mobile users to avoid being lowered in the searches. It's also something you need to do to ensure that you please all customers.
Hiring a Professional Web Designer
If you want to try it yourself, that's fine. If you have the time to devote to making the changes that you need, more power to you! However, there is something to be said for outsourcing or hiring a professional web designer to do it for you. By entrusting the job to an experienced web design team, you are going to know that they have the expertise and the time to devote to your web project that will yield the most professional results.
When looking for a web design team, look for a design firm that listens to your preferences, understands your business, and wants to create the website that you envision for your business.
Don't settle for second best. Find a web design team that has your best interests at heart.
Qualities of an Excellent Design Team
When it comes to choosing a web design team, you should look for the following characteristics:
Excellent online portfolio– You should look at the online portfolio of any web design company that you are considering using. Companies that work in the graphics or media industry usually have an online portfolio of their work. This will give you a look at some of their achievements so you can see if their skills can benefit your business and website.
Multiple tools and areas of expertise– Choose a web design firm that has access to many different tools such as graphic design software and other resources that can get the job done.
High technical knowledge– It takes both a creative eye and a high degree of technical knowledge to produce a great working website. Choose a web design firm that has both the technical and creative know-how to create a site that appeals to your most skeptical users.
Multiple coding language capabilities– Another good quality to look for in a web design firm is the ability to use a variety of coding languages.
This is something that is sometimes hard to find, and most business owners don't have the time to learn to code themselves, so this is where a web design firm can come in handy.
Creative design tools– Having multiple creative tools is another good quality of a web design company. This will enable you to integrate different tools to create what you want with your website.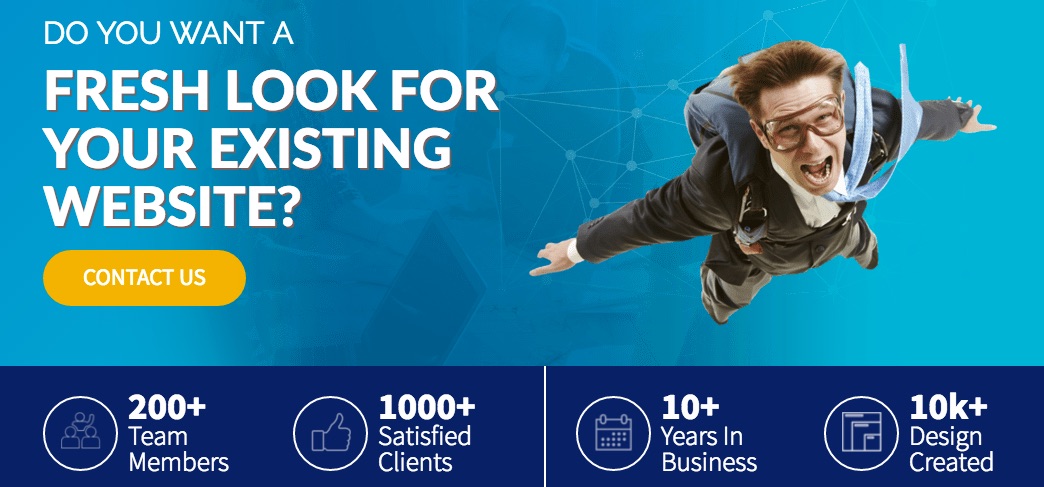 About Web Design Team
At webdesignteam.com, you'll find that we live up to all of the above attributes and more. We have the creative and technical skills to get the job done, no matter what you want to include in your website. We can also advise you as to what might work best with your site, and we can code in a variety of languages so there is no limit to what we can do for you.
Visit our online portfolio and check out some of our previous work to get an idea of what we have done. Then contact us for a free quote. We'll be glad to help you out with whatever you envision for your business.
If your website needs a facelift, let us put our expertise to work for you at webdesignteam.com. Then you can focus on your business and get customers to your site. We will build it and they will come.