WordPress is a great website platform that allows businesses to put their brand online. While many businesses still choose to go through traditional channels to promote their brand, WordPress offers a simple and user-friendly method to promote your company or organization.
In this post, we take a look at seven businesses that use WordPress as their main platform and analyze what makes them successful.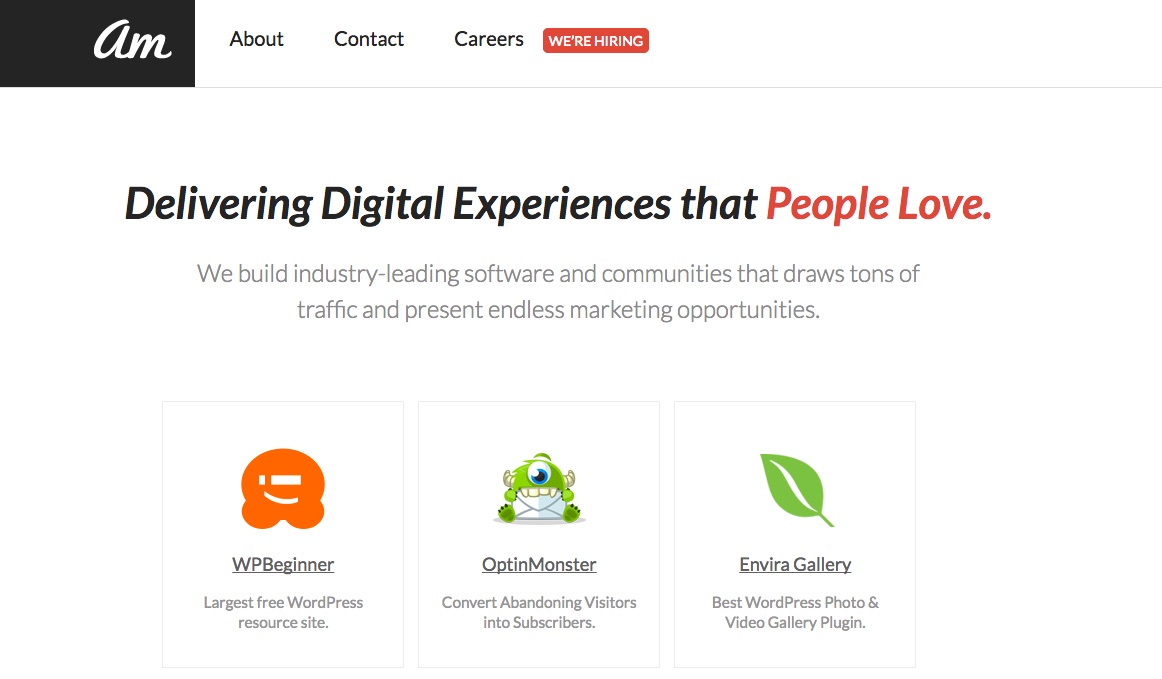 Awesome Motive
Awesome Motive is a company that started with a simple WordPress blog. WordPress is known as a great platform to put your website on to project your presence on the web. Their platform is easy to use and friendly to business blogs and websites. It features several online templates, many which are free, that you can use on your site.
Awesome Motive is a software company that creates custom software including tools such as OptinMonster, WPBeginner, and List25. All of these tools help companies or individuals promote their business or ideas on the web. It is more of a portal site than a dedicated business site and allows people to pick and choose from relevant software programs that they want to use with their business.
CopyBlogger
Copyblogger is a content marketing that focuses on creating valuable content that will help your business grow your brand. They focus on the content writing process and the value of writing original content. They have used WordPress as their platform to house their website so that they can utilize the features to include client testimonials, as well as to create a bold, professional look.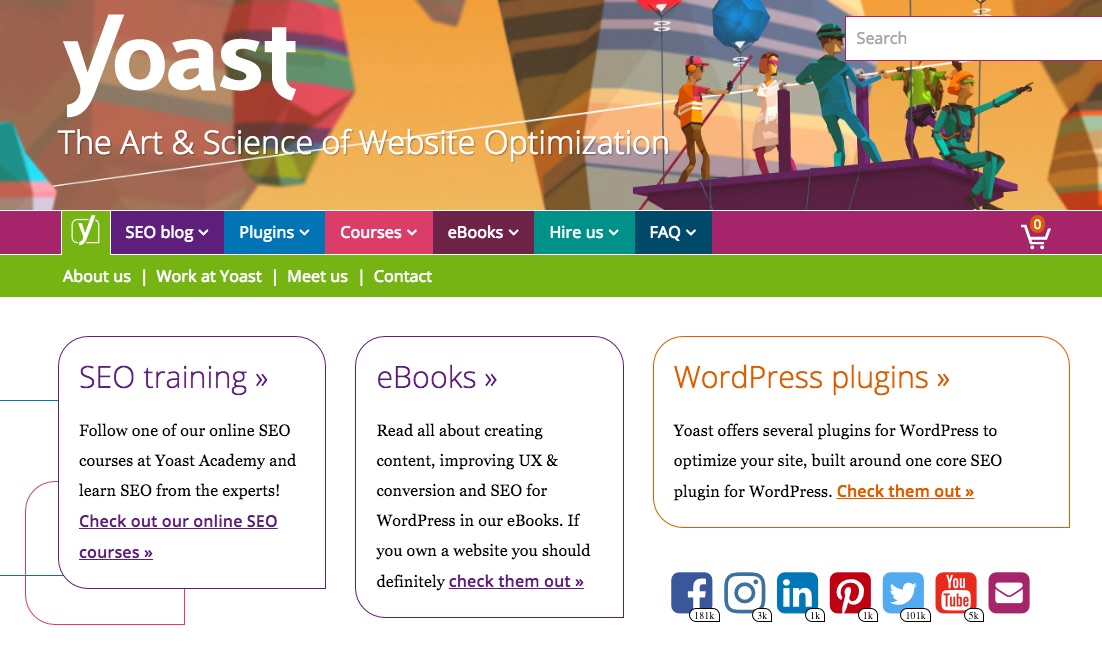 Yoast.com
Yoast is a company that provides WordPress plugins but they are also on a WordPress platform themselves. They offer website SEO, conversion reviews, and web auditing services for businesses on their site.
They use WordPress because of its ability to implement numerous tools to promote their brand in a way that helps them optimize their content with SEO and the other features available within the WordPress platform.
Upwork.com
Upwork is a leading platform for online freelance work. Clients and independent contractors alike use this platform to find work and to solicit work from professionals.
Upwork.com uses the WordPress platform to promote their business and obtain new customers by using a simple but professional template that presents their brand in a positive manner.
Envato.com
Envato is an online company that allows you to find creative assets and people to do various jobs that you need for your website. They like the WordPress platform and use it to set up their website like a marketplace.
Envato offers various creative services and templates for website owners. You can hire freelancers through this company's website, as well as download videos, apps, graphics, and much more. They use a video on their main page that promotes the Envato templates and other offerings. This company used to be housed within a portal site, but this WordPress site allows people to find what they want and downloads templates and other materials to locate freelance artists to help with their projects.
WP Ninjas
WP Ninjas uses WordPress in a unique way. They create unique WordPress sites that harness all of the power of the web to help businesses achieve their goals. They provide plugins for your business that are compatible with the WordPress platform and help you to optimize your presence on the web.
New Yorker
The New Yorker is an online publication that has used the WordPress platform to promote its articles and information. WordPress seems to work quite naturally with an online publication because it has several templates that are very "newspaper-like." This online publication shows a true example of this. They have columns that are almost the virtual equivalent to a real newspaper where visitors can click on specific articles.
It has a nice, clean-cut look and is easily navigable. The way it is laid out reminds you of a modern print publication that allows the user to browse to different locations to get what they want.
Xerox
Xerox has been around for a long time, so they didn't actually start on WordPress. They were around during the Steve Jobs and Bill Gates era when technology and computers first started to rise to the public attention.
They had invented something called "a mouse," and didn't see the potential in it, so Steve Jobs and his band of innovators stormed Xerox to adopt their ideas to use within their new Apple computer. Xerox missed the boat on a lot of money and fame due to their decision to sell out their individual inventions for the greater goal of tech domination that Apple and Microsoft did with it, but they held their own in many ways and still function today as a company that focuses on business machines, printers, and software and hardware for business.
They use WordPress to display their various services and products, and they have a user-friendly site that saves the user time.
Perez Hilton
Perez Hilton is one of the most successful entertainment and celebrity gossip sites on the internet. The site started off as a side hobby for an independent photographer and news reporter, then becoming the multi-million dollar website and brand it is today. The creator of the site Mario Armando Lavandeira, Jr., now has an estimated networth of $30 million… all thanks to the power and ease of WordPress running his site.
Get Started with a Site of Your Own
Looking back at these examples, it is evident that the sites that work the best using the WordPress themes are the ones that are more like publications and blogs. However, some corporate websites such as local Best Buy websites and others have made use of the WordPress theme to use the tools and options to help their image or functionality.
If you have a website on WordPress or even if it is housed on another platform, you may want to consider creating a site with a professional web design team.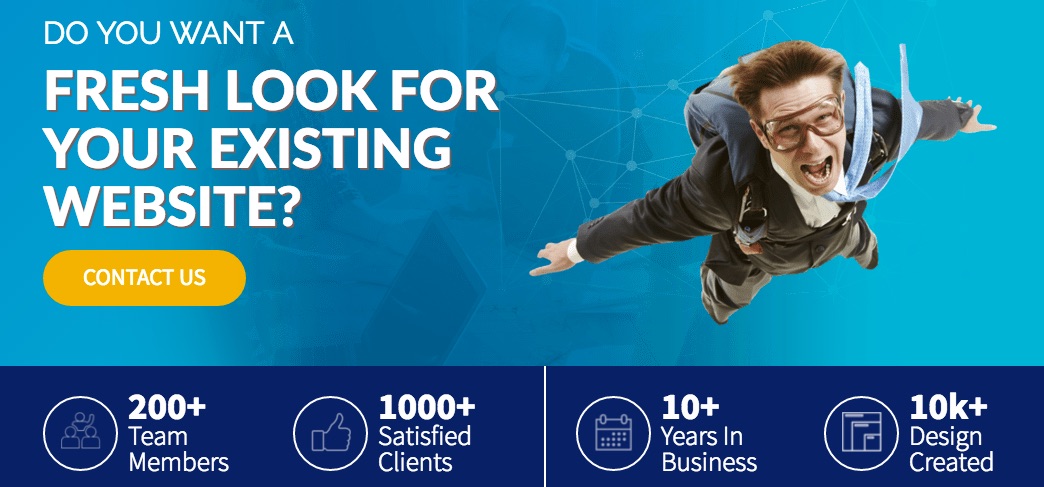 We here at WebDesignTeam.com offer the best top-notch professional web design you can find, and we feature the following services:
Graphic design
Web design and development
2D and 3D animation
Infographic design
These are our main services so ask us about any of these to get started.
We know that some businesses like to use WordPress as their platform on which to house their site. That's ok! We can incorporate WordPress within our website platform and allow you to keep the best of WordPress while utilizing our various tools as well.
We are professional web developers, and we are experts in our field. Let us visit with you and plan a strategy in how to promote your business on our platform. We look forward to hearing from you.